Every building has its own individual challenges which will affect the design and installation of a Distributed Antenna System (DAS) solution. Before a DAS can be designed for your premises, a site survey is required to learn about the location and building-specific factors which will influence the final DAS solution. Factors include:
Size of the building: The size of your building will help to determine the types and required number of components for your Distributed Antenna System. For example, a small building might only require a passive DAS solution, which utilises coax cabling in order to distribute signal. A larger building with more users will likely require a hybrid DAS solution, which uses cat 5/6 cables to distribute signal.
Building configuration: Does your building include office space? Storage or warehousing space? Does it have any levels underground? Is it open plan or are there multiple walls, and how thick are they? Does the building have Low-E glass?
Building materials: Different building materials affect radio frequency signals in different ways. Whether your building has been constructed of concrete, steel, wood and/or brick, these will determine how your DAS solution is designed and installed.
In addition to the design and construction of the building, the human factors must also be considered. Do employees or visitors spend more time in specific locations? Are there health and safety considerations? What operational aspects need to be considered?
Continue reading below or watch the video version for further information on DAS solutions:
DAS Installation and Equipment
Though the installation will be unique to your premises, each DAS system will be made up of the following basic components:
Donor Antenna: This is placed where it can readily receive radio frequency signals from the closest cell tower. This will typically be placed outdoors, as high up as possible in order to reduce interference. The donor antenna is able to receive multiple different frequencies, which allows for emergency signals and large user capacity usage.
Repeater Unit: The repeater unit will receive the signal from the donor antenna. This will most often be placed in the building's communications room. The repeater unit then relays and amplifies the throughout the building.
Indoor Antennas: Placed strategically throughout the premises, the antenna nodes will receive and then redistribute the signal via coaxial or cat 5/6 cabling, depeding if it's a passive or hybrid DAS solution. The nodes are small and can be therefore placed strategically and discreetly in order to provide signal in difficult to reach parts of the building. The total number of antenna nodes and where they are placed will be predetermined by your site survey.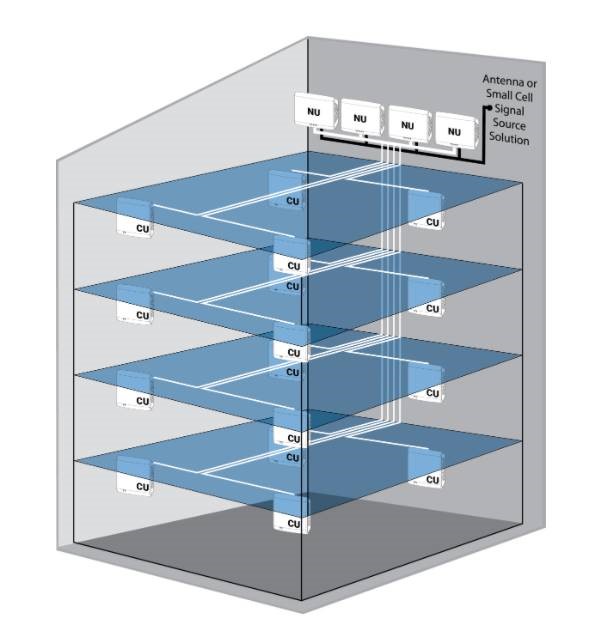 As can be seen in the diagram above, from the variation in components, placement and cabling, the installation process will require an expert site survey to determine the best DAS solution for your building.
Monitoring Your DAS Solution
The communications sector is always moving forward. Boost Pro Systems stays ahead of our competitors by continually investing in new technologies and our expert engineering team, in order to provide the best possible service to our clients. Once installed, we provide bespoke ongoing managed services and digital performance monitoring and apply automatic updates to support continual network changes in your area.
Unlike other solutions, our passive and hybrid DAS solutions are license-exempt and therefore do not require mobile network approval, resulting in significantly shorter installation times.
Get in touch
Interested in learning more about our DAS solutions, and the installation process? Contact us today to discuss your requirements – 0330 1244 805.
Originally published at https://boostprosystems.com on December 3 2020.